---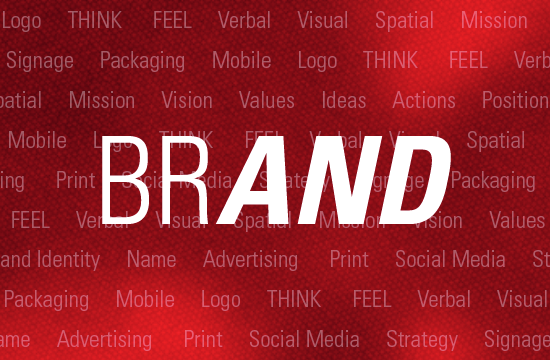 Lately, there seems to be a trend of marketers saying to me,
"our competitors are on social media, so we need to be on there" or, "we need a new strategy for submitting proposals. You guys do that?"
In my opinion, many companies get caught up on a specific tool and are too quickly off and running to build it without thoughtful consideration for how the tool will support and enhance the brand. They forget there's a much larger picture at stake.
Digital marketing tools (mobile marketing, social media, paid search, email marketing, etc.) are great ways to reach and engage people. However, to be effective and of value to you and your customers, they need to be driven by a clear vision and a smart strategy — a core brand strategy.
Keep in mind, your brand is formed through perception and reinforced at every touchpoint. Controlling your brand perception is the game changer — something that should be at the top of your agenda.
In all of THIEL's work, business strategy drives brand strategy. Think first. Develop a strategy. Execute and evolve over time. That's branding. And it doesn't happen overnight.
Branding can cultivate regional customers into national customers. Branding can merge two companies into one. Branding can significantly grow your profits through well thought strategy.
If you are a marketer, these activities will be huge in 2014:
Customer experience strategy
Placing your customers at the center of everything you do. As marketers, we are busy putting out fires, responding to prospects and customer requests — it's critical that an external resource is focusing on the overall customer experience of your firm.
Content marketing
Content marketing can bring consistent value and create a positive reputation with your customers, prospects as well as search engines. A successful content marketing strategy provides relevant industry information, provides key insight, and builds rapport to develop a loyal following.
Social media diversity
In just the past few years, B2B companies really started appearing on social media. Much like social for B2C brands, platforms like Facebook, Twitter and LinkedIn have dominated the landscape, but there's an underdog quietly gaining ground, Google+. While many call it a "graveyard network," there are many benefits to Google+ that mainly reside in the value of SEO (Search Engine Optimization). Make sure to integrate this network into your social media strategy to see rock solid SEO returns for your brand.
Simplification
2014 is the year to declutter. When it comes to your brand, less = more.
Mobile friendly content
Customers and prospects are referring to their mobile device more and more. Here are the latest statistics I've found that will help you with your 2014 strategy:
2013
The average person checks their smart phone 34x a day
91% of adults have their mobile device on them 24/7
25% of brands have a mobile strategy
27% of brands have an optimized website, 46% will not return if it's not working
90% of mobile searches result in action, 50% lead to purchase
2014-2015
It's expected that mobile will surpass desktop, email and social
SEO
The most dominant search engine in the world is Google at 67% market share. So it's no surprise that they place great emphasis on their own social media platform, Google+, as it relates to your content strategy and social media strategy for driving links. The Google algorithm is a highly complex method of determining relevance and importance relating to a search query.
Google rewards websites with higher rankings for providing fresh and engaging content.
Everyday, your customers refer to the web to perform research and look for companies, services, products, etc. If you want to achieve higher search engine results, your content marketing strategy, social media strategy and SEO strategy should work as one.
---