---
Today, one can't have a discussion about e-marketing, web design, or e-commerce without bringing up search engine optimization (SEO). In the past decade or so, Google has made its search engine the holy grail to businesses who rely on the web for generating leads. SEO specialists spend countless hours chasing the infamous algorithm with the goal of staying one step ahead of their competitors as they deploy some of SEO's best practices.
However, does a #1 page rank automatically equal click-through rates and customers? You may be surprised to learn that a recent study revealed that the #1 organic search position, on average, receives only 17% of click-throughs and first page results receive less than 50% of all click-throughs. So while SEO should be a central aspect to any e-marketing strategy, one cannot put all their eggs in one basket and expect SEO to be the sole source of site traffic and lead generation online.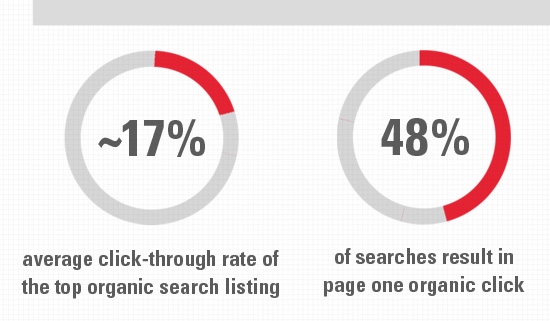 First, it's important to understand the various factors that can influence a user to make a click. While there are certainly SEO-related factors beyond ranking at work such as title tags and meta descriptions that influence click-through rates, other factors influencing a user's decision to make a click are often intangible. Your brand's awareness level and trust among consumers are also at play when it comes to search.
Think of the last time you conducted a search for a product or service you were looking to buy. On many occasions the #1 search result may or may not have been a source that you're intimately familiar with. However, rather than choosing someone new, you notice that below the first result is a resource that you've done business with before. Ultimately, you may feel more comfortable returning to this source because of positive past experiences that have built trust over time.
For example, I recently was looking to buy a new rug for my living room. The search I conducted delivered the results shown below. Despite RugsUSA being the first result, I didn't make that click because I had never heard of them before — I lacked brand awareness. The second result was for Wal-Mart. While I certainly knew the brand, I don't particularly trust the brand when looking for a high quality item for my home. So, I also bypassed the second result. The third result however was overstock.com, which I both knew and trusted from previous experiences in searching for quality items that I could purchase at a discount rate. I made the click.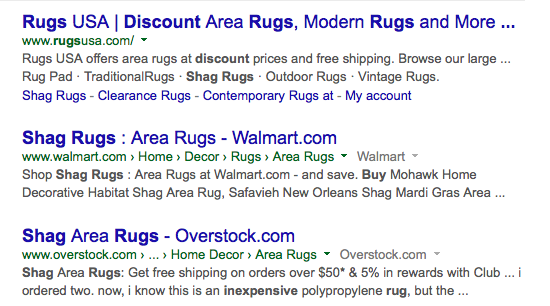 SEO is often thought of as a more analytical marketing activity rooted in data, statistics and equations. Many forget to think of the emotional side of SEO and how brands and branding are still very much a part of the customer decision process while online. Which leads us to the second point in our discussion: user experience.
In the past, SEO and user experience were often at odds with each other, and today, best practices for both can still conflict. However, they're becoming more aligned as time goes on, so that SEO and user experience can work together rather than against each other. While SEO can help bring users to your site, it's the user experience that encourages users to stay on your site, explore its content and make an action; whether that's making a purchase, or picking up the phone to request a quote, meeting or more information.
Today search engines, like Google, are finding ways to measure the experience users are having on your site. Things like the amount of time spent on a page, the number of conversions made, and how many pages beyond the homepage users navigated to are all factors Google is measuring to influence your search rank. These factors as well as others such as external inbound links to your site and social media mentions are also influencing your rank. You see, SEO isn't just effected by the level of trust and awareness customers have in your brand, but also the level of trust search engines have in your brand based on the experiences of users and how they interact with your content. It's important that your site be designed and built in a way that promotes the exploration of its content and optimizes SEO capabilities because being #1 in Google isn't enough. You need both a site that can be found, but also a site users can trust because your brand's trust, awareness and the experiences associated with it online (and off) effect customer decisions and therefore your success.
---