---
At the end of the day, it's true, branding is a necessary investment but the amount spent isn't the sole factor that impacts the sales or success of a business. We've had clients spend six figures a year on branding activities but we've also had others spend just a few thousand too. It wasn't the budget that determined the success of the client; it was the strategy, execution, and delivery that made all the difference.
One of the biggest mistakes brands frequently make is investing a bunch of money in their marketing activities without having a carefully thought out brand strategy or consistent message that they're bringing to market. Your branding can't be a hip-shot; it has to be true to your brand in every aspect. Begin by first establishing a set of objectives and identifying your audience to serve as a starting guide.
Does your audience read magazines, are they on social media, what about email? Pick and choose the media that make the most sense and appeal most to your target. You want to be where they are, and in the places that they'll be most receptive to hearing your message and be influenced by your brand. It doesn't matter if you spend millions; if your not choosing the appropriate vehicles to carry your message, it will just get lost in the clutter.
As one can imagine, what to say, how to say it, and where, all depends on the individual business. While having a great product and service is certainly important, at the foundation of any branding program needs to be truth and transparency. This stuff can't be made up. Your branding can't be about who you wish you were, but needs to play up the best strengths of who you really are as a brand. The reality is that there are companies out there with great products who are failing, and companies with mediocre products who are winning. Why? A lot of it has to do with how they've built loyal customer relationships through a smart and effective approach to branding.
So where do you find your brand's truths? For us, THIEL begins every branding program with primary and secondary research. We take a look at what the competition is doing and benchmark what's happening in your industry. However, it's important to understand that what's right for one brand may not be right for another, even between direct competitors. Your brand's story isn't the story of your competitor — nor do you want it to be.
Where we find some of our most valuable truths is through discussion. We interview decision makers, customers, prospects and a cross section of those who have an influence over the customer experience — big or small. Taking time to listen at every level of your organization and to your customers provides the opportunity to discover overlaps and inconsistencies — you'll be surprised by what you find. The overlaps can be taken as your truths, while inconsistencies should be discussed and rectified. Leverage your truths in your branding, from your positioning to your mission, vision, values and marketing messaging. Carry these truths through the channels that matter most.
Creating a successful brand isn't about how deep your pockets are; it's about knowing your customers and understanding what works and what doesn't work. Be true to your brand and in effect, you'll be true to your customers — building trust, building relationships and building value for your business through branding.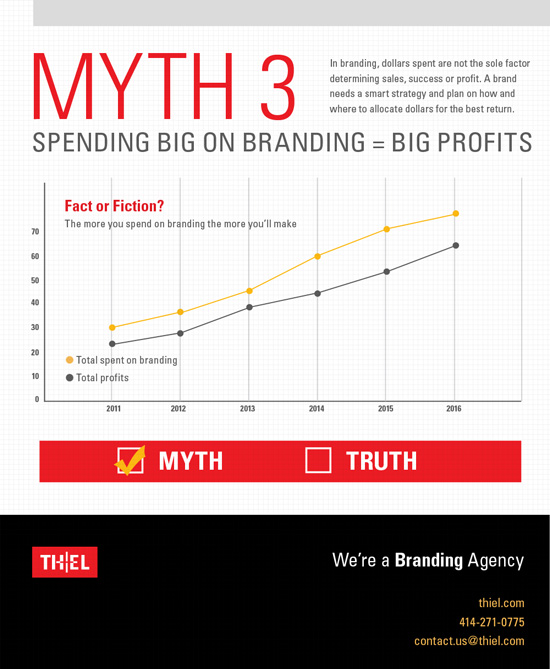 Read more from our summer blog series: The 10 Myths of Branding
---